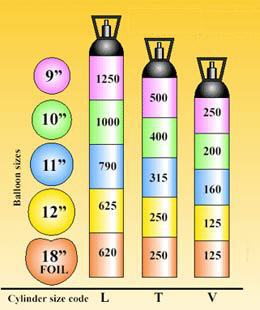 Gas Canister Sizes Available
V Size £79.95 (£66.63 excluding VAT)
T Size £98.80 (£82.33 excluding VAT)
Helium Gas Cylinders are available in two sizes, depending on the number of balloons required filling. We are able to deliver to any address in Basingstoke and the surrounding area with a Delivery charge starting at £15. Store collection is also available for free.
Price includes cylinder and valve hire for 7 days and the inflation valve is suitable for both latex and foil balloons. All helium gas bottle prices and rental charges are INCLUSIVE of VAT. £5 charge is payable on rental for each subsequent week.
Long term gas hire and rental also available.
Lost or un-returned cylinders will result in a £50.00 charge. Lost or un-returned valve will result in an £40.00 charge. This charge will be applied to the original card details left as security or amount invoiced accordingly.